Hello readers, it's Ryan's colleague Sarah here, taking over this month's blog to honour International Women's Day! I want to share a story about an incredibly resilient woman that left an imprint on my soul. It's also a tale about the remarkable man that loved her. It's the hardest and easiest story to share… and perhaps by the end, their life might imprint on you too. So… let's begin.
The first time I met her it was 8am and I was rushing down the road to catch the school bus. I saw a woman with grey- blonde hair pinned up in a 50's inspired yellow scarf and paired with a bold red lipstick. She was so intriguing… I had to say hello just so I could take a better look.
Her name was Jo and she was my new neighbor. Jo was a talented musician and performer, but these days her passion was her garden. Jo would wake up early every morning and tend to that garden like a mother tending to her child. It was an enchanting place to gaze upon as you passed by. Beautiful boxwood hedges outlined her yard like a fence, pink rose bushes climbing a trellis along brick walls, lush hydrangea bushes and Hosta's of countless varieties blooming in their full glory. Each morning I'd see her out there in full hair and makeup like she had somewhere to be at any moment. She was mysterious, glamorous, quiet and kind. I felt compelled to know more about her… but I was too shy to say much those days. I'd quietly say hello with a smile, she'd smile and return the gesture. We'd wish each other a good day and that was it.
As time passed, my dad grew to be great friends with Jo's husband, George. George was a very sweet man, soft spoken and a great sense of humour. The one thing I admired most about the man was the way he loved his wife. He embodied old school chivalry in every sense, and you could feel the depth of their devotion in the way they looked at each other and in the way they spoke. I'd never witnessed anything quite like it before; they were certainly irrefutable evidence of soulmates.
Jo was born Helen Frieda Clayton. Her family had 8 children and little money; however, their love of music was abundant. She was taught to play piano by her father at the age of four, which later evolved into playing the organ, harmonica, bass, cello, violin, accordion, and auto harp. Performing would eventually become her lifelong career and dedication.
George was born in Greenock, Scotland and moved to Canada with his family as a child. He joined the air force during the Second World War, working for a top secret military division that developed the early prototypes of radar technology. After the war, he became a teacher, dedicating many years to special needs education; a role that suited his compassionate nature.
Their marriage in 1947 would be filled with unconditional love, but it wouldn't be long before it was also filled with heartache. Their initial pregnancies would end in loss, but in 1949 they'd give birth to a beautiful daughter, Lynn, who tragically passed on a short time later. At last, fate would bless them with another baby, Ryk Brennan, born November 14th, 1955.
Ryk was their miracle child and they loved him endlessly. Jo passed her gift of music on to her son, which eventually lead to collaborating as a duo, writing songs and going on tour across Canada. They'd temporarily move to Regina and record an album that featured the hit single "Strawberry Wine" with NikNak Records in July 1979. Once touring slowed down, they chose to return to Ontario, but they'd continue to play in local venues and release music, including another hit track "Dandelion Wine".
The family settled into a slower pace of life in Mt. Pleasant and Ryk started a lighting & landscaping business that specialized in outdoor Christmas decorating. He was so talented that their whole yard became a local annual attraction during the holiday season. Endless waves of vehicles passed their home to see the lights with synchronized music and a life-sized Santa Claus with all his reindeer scattered throughout their corner lot, each of them in hysterical poses. His business grew so popular that, in the mid 80's, Ryk decided to relocate his operations to Toronto in order to service a growing number of prominent clientele. The move meant scaling the business, which required money that the banks weren't willing to loan him. So, in a final resort, he turned to his parents and asked for a personal loan instead. George and Jo didn't have a lot of money, but they did have their house, so out of love and faith, they re-financed their home to give their only child the cash he needed to chase his dreams.
Like many gay men in the 1980's, Ryk never openly came out of the closet to his parents, even though they, of course, had always known. That all changed one day in the early 90's, when Ryk came home and needed to share some heavy news. He was HIV positive and needed their help. So, George and Jo moved their son back home to care for him on their own. The family struggled to cope with the social stigma of Aids throughout his sickness and when Ryk passed in 1995, only one local funeral home compassionately offered to care for his remains… Touchingly, they even offered financial support for his burial services, a generosity that George and Jo would never forget, especially since they had exhausted their own retirement savings to care for him in his last days.
I was about 12 years old when my family moved in next door to The Brennans in the summer of 2001. Jo's passion for music, gardening, and baseball were infectious and joyful to witness. She'd play on the organ with her windows open regularly, and when the sun was shining, she was out in the yard listening to the ball game over the radio. Only when it rained was it acceptable to watch baseball on the television. We became great friends and in time we'd become chosen family.
One day I stopped by their house, running an errand for my dad. George welcomed me into their home and asked me to wait in the kitchen while he fetched something in the basement. The room smelled like dinner, and I noticed the table was set for three. When George returned, I apologized for imposing right before expecting guests. The expression on his face turned solemn as he reassured me that no guests were coming. The truth was that this extra seat was reserved for Ryk and this was a ritual they often practiced; their own way of keeping his memory present in their lives as time passed.
In the fall of 2005, George was recovering from a stroke when Jo started to succumb to lung cancer. As the cold air arrived and the colours in the leaves began to fade, there was a presence about their home that you could feel was missing. Jo was moved to palliative care at Brantford General Hospital and George stayed by her side every day. My parents supported them in every way they could, and we would make routine visits to see them. Even in her final days, Jo still insisted on wearing some make up and styling her hair. She did this until she physically couldn't anymore. She made it to see November 14th, the day of Ryk's birthday, and passed away the day after. Before we said our final goodbye, I grabbed her make up bag from side table and started applying mascara to her eyelashes, followed by her signature red lipstick and finished the look by brushing her hair back and adding kiss on her cheek.
We cared for George in her absence, but his health and heart were never quite the same. I watched him carry on the ritual of setting the dinner table, only now there were two empty plate settings. As I entered into my senior year of high school, his health complications required around the clock care. George appointed my Dad as his executor and power of attorney. Dad honoured George's every request with a gentle kind of love seen between a father and son. Dad did everything in his power to get George into the local retirement home, conveniently located right across the field from us. George would be able to look out the window and see his home in the distance.
I was in George's office one day, sitting on the floor filtering through a mountain of paper when I came across a collection of Jo's old journals and several photo albums filled with polaroids that instantly made time stop. Between the pages were reflections of her life, her heartache, the dark places it had once taken her and the poetry that lifted her spirit back towards the sun. The albums were filled with pictures of colourful sun glistening skies… hundreds of them. Most seemingly positioned from the same location: years of sunrises and sunsets captured from their front yard, overlooking the farmers field. Now from the other side of that same field, where George sits at the window, glancing across to check in on his home.
My Mom made sure we visited George routinely. We never wanted him to feel alone, so after school we'd stop in to tell him about our day and make sure he was comfortable and well entertained. Looking back on all those visits, I wish I'd had the bravery to ask him all the questions I wanted to. Maybe it was because I didn't want to cause more pain by bringing up beloved memories. Would they make him smile and laugh? Or would they just haunt him after our visit? These questions always made me hesitate… so I never asked. Instead, I just listened.
In February 2008, George passed suddenly at the age of 86. We buried his ashes in the cemetery next to Ryk and Jo. Before the urn was sealed, Dad quietly placed George & Jo's wedding rings in with the ashes and closed the lid. As we lay flowers across the open grave and said our goodbyes, I recited Jo's poems that I had found that day in George's office:
I see you in the sunrise, as dawn begins to break.
I see you in the sunsets, in the pictures that I take.
And when I go to sleep at night, like a sweet familiar theme.
I get to see you one more time, weaving memories in my dreams.
—
And though I'm gone while you're still here, know that I live on.
Vibrating to a different measure, behind a veil you cannot see through.
You will not see me, so you must have faith.
Wait for the day we will both soar together again, both aware of each other.
Until then, live your life to its fullest.
And when you need me, just whisper my name in your heart, and I will be there.
Written by Helen Freida "Jo" Brennan.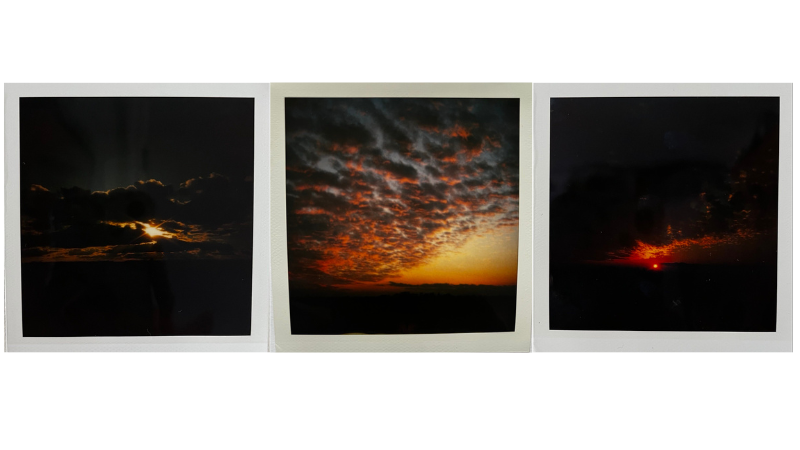 To this day, their memory lives on through our family. Whenever I see a sunset, I hear her poems. I'm reminded that the power of a mother's love can reach into the beyond just to kiss her baby goodnight. That pain can transcend its inherent darkness, like cultivated compost with the ability to evolve itself into a garden of rebirth that is vibrant and beautiful.
For our family, George and Jo's life & legacy brought our us closer together. They taught us to love one another, no matter our differences. More than anything, they taught our family how to talk about uncomfortable things like mortality with some ease, but also a sense of humour. My parents have gone to great lengths to ensure that their own estate is clearly organized and communicated to us proactively. I have been charged with executing on their wishes, ensuring that arguments over material things and money never break the love & friendship that exists between me and my brothers.
Last summer I walked the kiddos down to the cemetery so that I could introduce The Brennan Family to my own little family. We cleaned their headstone and groomed the greenery as I told the story about the people beneath the headstone. This spring we will return once again to tend the plot and recite Jo's poetry so that her words of wisdom can live on through my children, bringing us comfort in the tough times and weaving their memory through our dreams.
With love,
Sarah
Jo's autoharp and other personal items were donated to The Country Music Hall of Fame in Canada, where they can be seen on display today. George's war memorabilia has been held in trust until it can be preserved and displayed in a veteran's museum. It just so happens that we know a place that can help us with that. Sometimes fate can be poetic… eh?
In a weird twist of fate, we realized part way through writing this blog that George was a WWII radar veteran – and Ryan was a co-founder of a museum on WWII Radar. To learn more about this proudly Canadian history, check out www.secretsofradar.com.
***
Looking to make an impact? Contact us today for a free consultation or check out Driven by Purpose, a book written by Ryan Fraser, which shows you the possibilities for growing your wealth and making a real impact through the legacy you plan to leave. The book features real, personal stories and offers dozens of strategies for leaving a lasting legacy.
The information provided is accurate to the best of our knowledge as of the date of publication, but rules and interpretations may change. This information is general in nature, and is intended for informational purposes only. For specific situations you should consult the appropriate legal, accounting or tax advisor.