Growing up in the small town of Chesley, Ontario, one of my strongest recollections was the annual Remembrance Day Service. The cenotaph in Chesley was a short distance from my school, right across from the Chesley post office, which was built about a decade before the great war.
Needless to say, recent world events have had me thinking back to those services. When I was a child, four or more decades ago, I remember there were many people in town who knew those whose lives were lost during World War II. Those folks, and the many veterans with whom I became friends in my later years, have helped me always remember that behind every name on that memorial was a person, whose life had deep meaning.
One of the names on the cenotaph in Chesley is John Douglas, who, according to a local paper in 1917 was "the son of one of the best-known residents of Chesley". In April of 1915, at the age of 23, he enlisted. According to his records he had "Two moles on his left shoulder", and a crooked little finger on his right hand. At the time he enlisted, Jack worked for the local paper, the Chesley Enterprise. Perhaps because of this (and his locally famous father), there's a good historical record of Jack's wartime service.
Basic training was somewhat eventful for Jack (as he was known in Chesley) – his military records show that he had injured his knee during bayonet training. His knee would flare up a few times during the next year, resulting in him being on medical rest for six weeks in early 1916. By May that year, he was declared fit for duty, and sent into service.
A year later, Jack would receive a Military Cross for valor in battle. As reported by the local paper in Chesley, one of Jack's commanding officers left the trenches in France and was shot. Jack went over the trench and pulled him to safety. Two bullets had gone through Jack's helmet, and several others had left dents. Unfortunately, the officer passed away a short time later.
Amusingly, exactly a week after the Chesley paper reported this article, a paper a few miles down the road ran another article. In this version, Jack had rescued the officer, the officer lived, and Jack's helmet had deflected a half-dozen bullets. According to the Walkerton paper, Jack had been instantly awarded the Victoria Cross!
Regardless of the "inflation" of Jack's heroism in the trenches in France, his actions warranted him a promotion to Corporal. Sadly, his promotion wouldn't last very long. Four months later, he was heavily wounded on the battlefield, and would die of his wounds at a field hospital. His obituary in the Chesley Enterprise called him "a faithful employee and one of the finest types of young manhood we ever met". They went on to say that he died in a "just and noble cause." Personally, I doubt that brought much comfort to his parents, who were devastated at the loss of their son.
Estate Planning in the trenches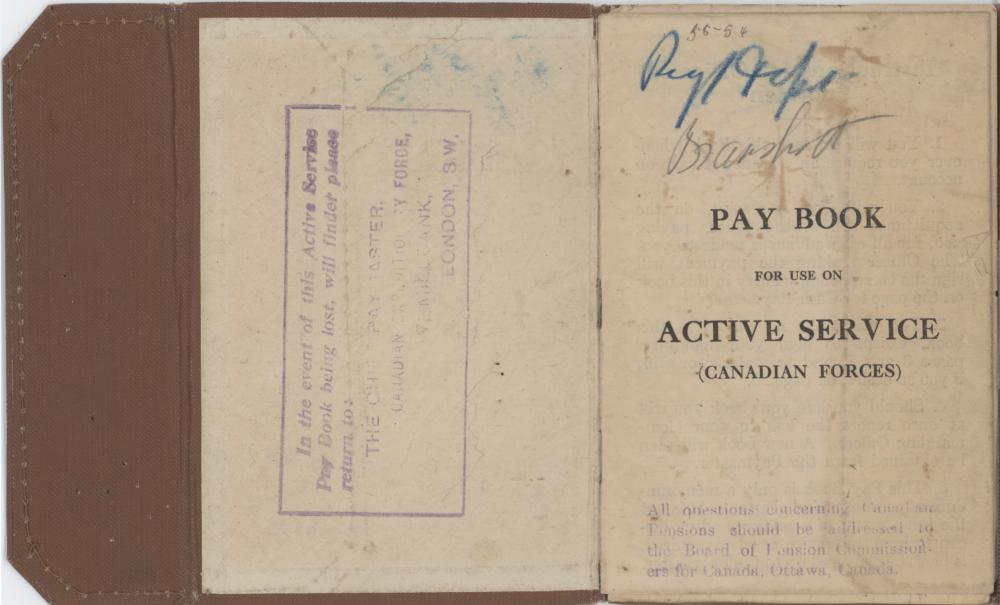 Young men like Jack who were sent to war were encouraged by the government to write a will. While Jack's records don't contain any reference to his estate plans, many of his fellow soldiers completed wills in a variety of ways. The government had a "templated" official will, which a recruit could fill out and have witnessed. Many of these were quite simple, with a large number of soldiers leaving their belongings to their mothers. Soldiers on the front lines were given a paybook, which was to be kept on them at all times. Page 13 was mostly blank, with the word "Will " written up top, with a spot for the soldier to fill in a hand-written will, and a spot to sign and date, and list their rank. This allowed soldiers who knew they were about to go over the trenches to make last-minute estate decisions, knowing that they faced grim odds.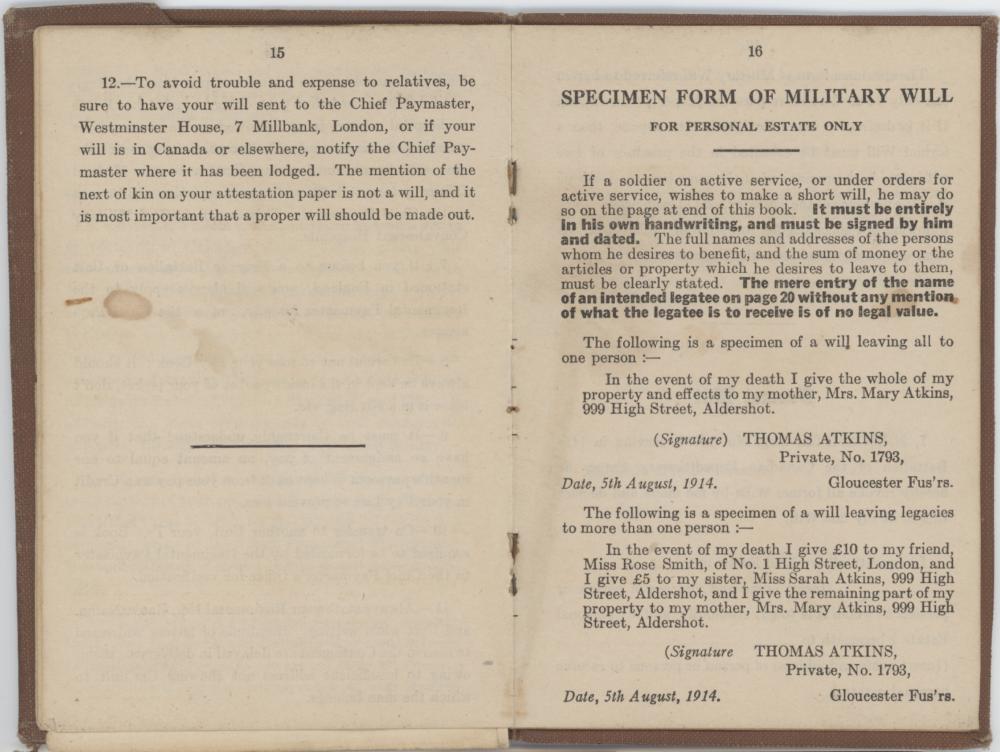 Paybook wills were somewhat problematic in practice – there often was no way to know in the chaos of war if the paybook will found on a soldier's body was the most recent one – especially if it had been signed some time before. And, obviously, the violence and brutality of war could lead to the paybook being destroyed or unreadable. Or, in some cases, the soldier never signed and dated the will, but filled out their intentions.

Estate planning for Canadian Armed Forces (CAF) members in the present day.
Today, estate planning for members of the CAF can still be tricky. Estate planning, including wills, is generally a provincial affair. CAF members are often moved around Canada, making jurisdictional issues somewhat tricky. A will written while the member was in Ontario is still valid if the member passes away while living in B.C., but the estate would most likely be subject to the estate laws of B.C.
Most provinces do give some leeway to CAF members in active service. My home province of Ontario allows for those on active military service to write and sign by his or herself or someone at his direction without any other formality or witnessing required. This would allow someone to give "dying instructions" who may not otherwise be able to write in their own hand. Additionally, Ontario (and all provinces except Quebec), will allow a will made by a minor to be valid, if they are in active service.
Life insurance can also be a potential challenge. Most insurers in Canada will now provide coverage, provided that the member is not on, or knowingly about to be on active deployment. However, some insurance contracts have specific exclusions for "acts of war" that might exclude coverage in wartime on the policy. Not every company has had this wording – and many newer contracts no longer have that wording at all. It's important for service members to review any life insurance contracts carefully.
The CAF offers a special life insurance plan for members, which provides twice the annual salary of a member in coverage if they were to pass on active duty. The price is incredibly inexpensive – $1 per $10,000 of coverage.
Remembering those who serve.
This year, like every year, I'll be spending Remembrance Day thinking of my veteran friends, most of whom have since passed away. The First World War – the "War to end all wars", will mark its centenary next year in September. I'm not sure what Jack and the other young men on the Chesley Cenotaph would think of our world today. I do know, however, that we must all remember our history, or we will be doomed to repeat it over and over again. I'm grateful that we live here in Canada, in relative safety. And, I'm grateful for the cenotaph in which Jack's name is engraved for sparking my interest in military history as a child.
Someday, I hope, conflict will be a thing of the history books. In the meantime, let's all send kindness and support to the many families and individuals affected by war around the world this fall.
Ryan
PS – For his wartime service, Jack was paid $1.05 a day, rising to a $1.15 each day he was on the front lines. That's around $19.81 in today's dollars, or the equivalent of $7230 a year.
A very special thank you to Dr. Stephen Davies and the History Department at The Vancouver Island University for allowing us to share their archives. The Canadian Letters and Images Project is a not for profit project, with no government or corporate support, that relies on donations to maintain and preserve our history. To support this organization, please visit: https://canadianletters.ca/donate-now